To support Amgen's mission of serving patients, the R&D organization aims to discover, develop, and deliver transformative medicines that address the leading causes of death and disability, working to meet the needs of as many patients as possible. To achieve this vision, we need to take full advantage of opportunities arising from rapid scientific progress and new technologies. Biotechnology and the data sciences are advancing at blinding speed, opening up immense new possibilities. At the same time, competition within the industry is intensifying, and access hurdles to medicines are more numerous and steeper.
To keep pace with these rapidly changing opportunities and challenges, Amgen has adopted a dynamic R&D strategy. It is designed to:
Preserve the core elements of our legacy strategy, including a focus on large effect sizes in serious illnesses and a Biology First approach to understanding disease and designing new potential therapies.
Guide us in making smart, well-integrated choices that reflect the world as it is today.
Positioning us to adapt rapidly as our opportunities and challenges evolve.
Amgen's scientific success has been rooted in a unique "triple threat" capability that includes world-class human genetics, a deep understanding of disease biology, and the molecular engineering expertise needed to design the right drug for the right target. By building on Amgen's long-standing strengths in science and biotechnology, we're confident we can deliver solutions that patients need and society will embrace.
— David M. Reese, Executive Vice President, Research and Development
---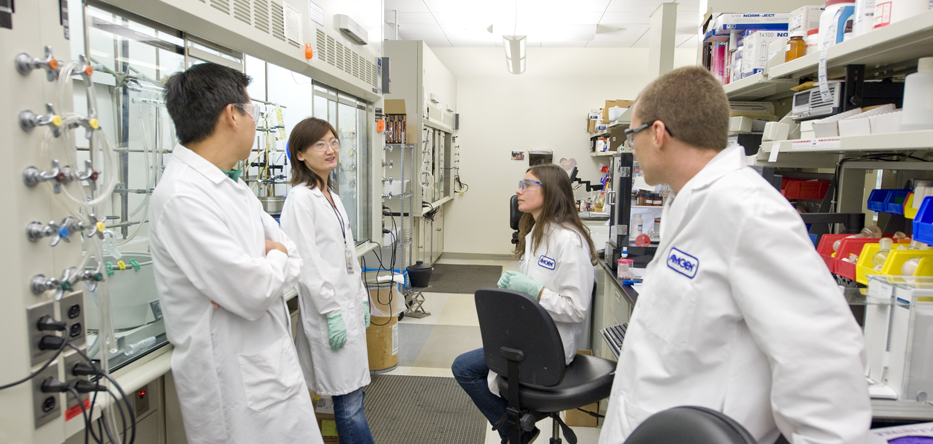 Our Vision
Benefit patients and societies through transformative medicines.
---
Our Priorities
Improve our success rates.
Focus our people and investments more intensely on the activities most likely to lead to new therapies.
Reduce cycle times.
The industry's standard timeline of 12 to 14 years from project start to drug approval is not viable. Amgen has already reduced its drug development timelines by about three years, but there is still ample room for improvements.
Enable access and use.
Gaining regulatory approval for new therapies is only half the battle. In the end, only one metric matters: Are the patients who need Amgen medicines actually getting them?
---
Our Strategic Imperatives
Make focused investment in innovative research platforms
Focus research investments in cardiometabolic, inflammation and cancer therapeutic areas. Rapidly expand the scale and diversity of our human genetic platform.
Expand our human data resources to include proteomics, transcriptomics, and allied data to generate deeper insights into disease biology.
Use our strength in molecular engineering to expand on the success of current drug platforms, including BiTE® molecules, and pioneer novel modalities to address targets now seen as undruggable.
Innovate in Clinical Development
Reduce the durations and cost of clinical trials and improve success rates through greater use of modelling and simulation, adaptive designs, and real world evidence.
Design smaller and faster studies with larger response rates by using genetics and omics to identify patients who will potentially benefit most from new therapies.
Address access and use at all stages of drug development
Ensure that representatives from our medical, clinical development, commercial, and manufacturing functions are partnering with research teams very early in each drug discovery program to define the attributes a new medicine will need to gain future access and use.
Leverage our Global Medical organization and its external network of research collaborators to generate insights into the evidence our drug development teams must generate in order to support access and use.
Invest in biomarkers, diagnostics, and other tools that can enhance the value of our medicines and support Amgen's commitment to empower doctors to go beyond a traditional "one size fits all" approach to treat patients in a more precise, personalized way.
---
Our Strategic Enablers
Maintain our long-standing and successful commitment to continuous improvement and operational efficiency in all aspects of R&D by challenging the way we work, speeding up decision making, and delivering better productivity to free resources to drive our science and innovation to deliver transformative medicines.
The foundation for our past and future success is our people – they form the foundation for all we do. We will continue to build an R&D culture that recruits, develops, and retains the best talent excited by the opportunities arising from rapid scientific progress and new technologies to push the boundaries of science as part of a collaborative team vested in a collective accountability for our success.
---
Amgen R&D Strategic Imperatives