Amgen Opens Next-Generation Biomanufacturing Facility in Singapore
Amgen Opens Next-Generation Biomanufacturing Facility in Singapore
New Technology Enables Greater Speed, Productivity and Flexibility in Producing Biologic Medicines
SINGAPORE (Nov. 20, 2014) – Amgen (NASDAQ:AMGN) has completed construction of its first Next-Generation Biomanufacturing facility, located in Singapore, heralding a new stage of efficient and innovative production of medicines that treat serious diseases.
Biologic medicines are produced in living cells and the new Tuas facility encompasses multiple technologies to enable greater speed, productivity and flexibility in commercial-scale manufacturing.
Built in less than two years, the Next-Generation Biomanufacturing facility was completed in half the time required for conventional biomanufacturing plants. It uses single-use bioreactors, disposable plastic containers, continuous purification processing and real-time quality analysis. This flexible, modular design can be replicated in future facilities, enabling higher production and greater accessibility to patients around the world.
"At Amgen, we are reinventing what it means to manufacture biologic medicines," said Robert A. Bradway, chairman and chief executive officer of Amgen. "Singapore is an ideal place to invest in such a pioneering facility because of its talented workforce and commitment to the biotechnology industry."
The Next-Generation Biomanufacturing facility is expected to have the same annual output as a conventional facility but in a single building that will use less energy and water and have lower solid waste and emission levels – all in line with Singapore's commitment to sustainable and innovative economic development.
Yeoh Keat Chuan, managing director of the Singapore Economic Development Board (EDB) congratulated Amgen and said, "Amgen's decision to locate its first commercial-scale facility in Singapore, which utilizes their suite of breakthrough biomanufacturing technologies, is a testament to Singapore's capabilities as a high quality, future ready, global biopharmaceutical hub. EDB will continue to invest in talent, process capabilities and new technologies to support the strong growth in this sector."
Amgen also announced it will continue building at its Tuas site in Singapore and will soon break ground on another facility where it will make carfilzomib, the active ingredient for Kyprolis®.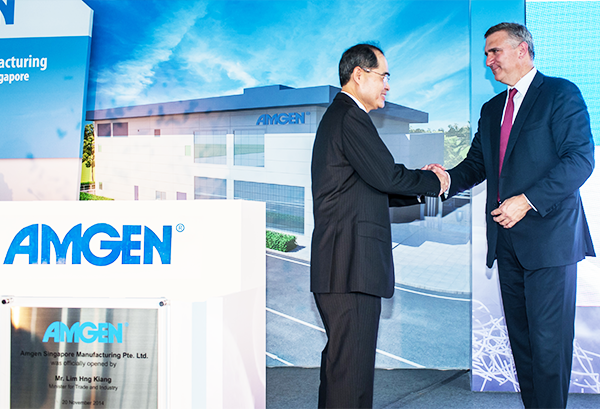 About Amgen
Amgen is committed to unlocking the potential of biology for patients suffering from serious illnesses by discovering, developing, manufacturing and delivering innovative human therapeutics. This approach begins by using tools like advanced human genetics to unravel the complexities of disease and understand the fundamentals of human biology.
Amgen focuses on areas of high unmet medical need and leverages its biologics manufacturing expertise to strive for solutions that improve health outcomes and dramatically improve people's lives. A biotechnology pioneer since 1980, Amgen has grown to be the world's largest independent biotechnology company, has reached millions of patients around the world and is developing a pipeline of medicines with breakaway potential.
For more information, visit www.amgen.com and follow us on www.twitter.com/amgen.
###
CONTACT:
Edelman, Singapore
Isaac Tan, +65 6494-1442 (media)
Amgen, Thousand Oaks
Kristen Davis, +1 805-447-3008 (media)
Arvind Sood, +1 805-447-1060 (investors)