About Amgen Singapore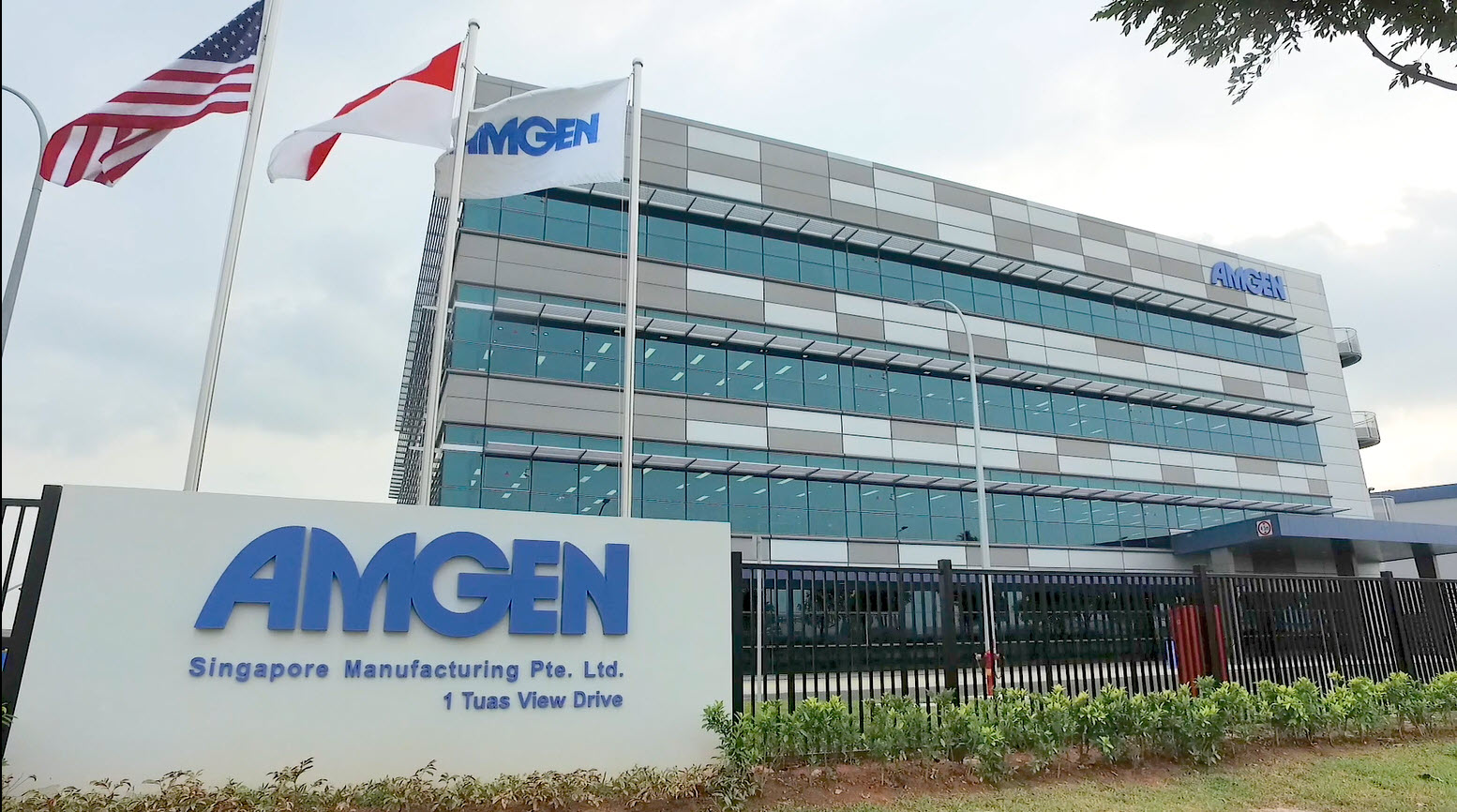 Amgen is committed to unlocking the potential of biology for patients suffering from serious illnesses by discovering, developing, manufacturing and delivering innovative human therapeutics. This approach begins by using tools like advanced human genetics to unravel the complexities of disease and understand the fundamentals of human biology.
Amgen focuses on areas of high unmet medical need and leverages its expertise to strive for solutions that improve health outcomes and dramatically improve people's lives. A biotechnology pioneer since 1980, Amgen has grown to be one of the world's leading independent biotechnology companies, has reached millions of patients around the world and is developing a pipeline of medicines with breakaway potential.
Singapore is home to Amgen's first manufacturing site in Asia – with the inauguration of the groundbreaking Next Generation biologics and chemical synthesis manufacturing facilities. Our growing presence and expansion in Singapore including a local commercial affiliate office, further strengthens Amgen's manufacturing capabilities to address the region's growing healthcare needs and provide treatments for millions of patients across the Asia-Pacific region.
We believe in harnessing the collective power of all our individual experiences, perspectives and knowledge of our workforce to fulfill our aspiration to be the best human therapeutics company. To ensure our ongoing success, Amgen Singapore is committed to promoting and maintaining an inclusive, high-performing culture where all employees embrace and leverage each other's talents and backgrounds. This means creating an environment where our diverse workforce feel valued, belonged and can contribute to their full potential in an inclusive environment.
Amgen Singapore also works closely with the Amgen Foundation where we are dedicated to promoting and advancing science education to students and teachers. Through the Amgen Foundation, we aim to build a local community that is passionate about science by inspiring young individuals to innovate and engage in new advancements in science and biotechnology.
2014: Heralding the Next-Generation of Biomanufacturing
Amgen's groundbreaking Next-Generation Biomanufacturing facility, opened in Tuas Biomedical Park. It is the first-of-its-kind manufacturing facility that uses the latest innovations and multiple technologies to achieve greater speed, productivity and flexibility in commercial-scale manufacturing. Built in half the construction time and at approximately one quarter of the capital cost, this facility boasts a significantly smaller manufacturing footprint and higher environmental efficiencies with less water and energy consumed and carbon emitted. In less than 2.5 years, the facility has successfully achieved regulatory approvals to produce biologic medicines from various major international regulatory bodies.
2015: Growing Commercial and Manufacturing Capabilities to Serve Patients in Singapore and Beyond
Amgen established its commercial presence to serve patients suffering from serious illnesses in Singapore. Partnering local governmental bodies and the community, this local affiliate drives Amgen's commercial business development, marketing and sales efforts and ensures our innovative biopharmaceuticals reach patients, payers and physicians across the region. It currently has 10 innovative medicines marketed in Singapore and proactively support programs to address healthcare challenges.
Amgen's first commercial chemical synthesis manufacturing facility located at Tuas Biomedical Park was also opened in the same year. This facility has since achieved regulatory approvals from various major international regulatory bodies in 2019.
2018: Developing Capacity and Capabilities to Support Amgen's Growth
With its focus to become more agile and patient-focused, Amgen opened a new manufacturing support office – the NextGen Workplace that is designed to inspire innovation and collaboration, enhance productivity and to build a vibrant work culture to support its growth in Singapore. Located at Tuas Biomedical Park and spanning more than 7,500 square meters, the NextGen Workplace plays a pivotal role in attracting and retaining talented staff as it supports Amgen's revolutionary NextGen Biomanufacturing and its Chemical Synthesis manufacturing facilities.