Amgen Singapore Manufacturing Capabilities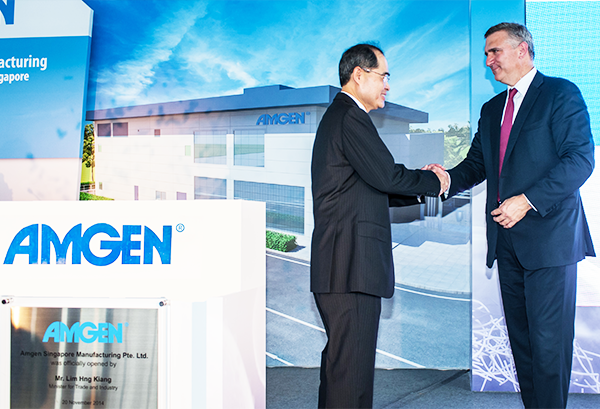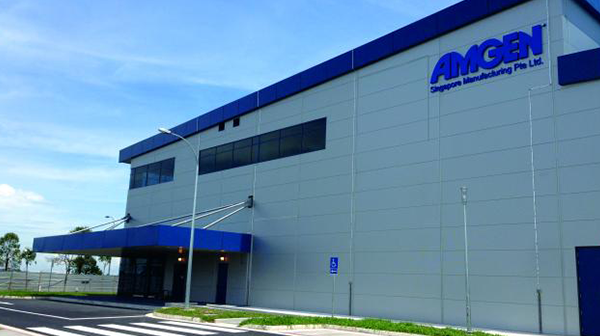 Amgen Singapore Manufacturing is a truly unique biotechnology pioneer. We have groundbreaking manufacturing facilities built using state-of-the-art science, incorporating highly sustainable and flexible processes and a strong pipeline.
On 20 November 2014, Amgen inaugurated its groundbreaking Next-Generation Biomanufacturing facility in Tuas Biomedical Park, marking the company's first manufacturing site in Asia. It is built with a state-of-the-art modular and reconfigurable design that can be replicated in future facilities.
Constructed in a short time frame of 15 months with only a quarter of the capital cost, this Next-Generation Biomanufacturing facility comes with a highly sustainable environmental footprint; using significantly less energy and water with reductions in carbon dioxide emission levels. The Singapore facility is still able to deliver the same quantity of products, while its size is 75% smaller than a conventional facility. In less than 2.5 years, the facility has successfully achieved regulatory approvals to produce biologic medicines from various major international regulatory bodies.
A second plant - Amgen's first commercial chemical synthesis manufacturing facility located within the same site was launched in 2015. This facility has since achieved regulatory approvals from various major international regulatory bodies in 2019.
At Amgen Singapore Manufacturing, we constantly invest in our manufacturing capabilities to deliver products of superior quality and sophistication to further strengthen our proficiencies and capabilities. Home to more than 350 people, we constantly support and empower our people to draw the link between disease, science and patient care. Encompassing a pioneering and entrepreneurial spirit, our employees work in a team-based environment that fosters a culture of inclusion, respect and responsibility. In doing so, we are able to provide greater accessibility to our medicines and best serve patients around the world.